Overview
Spectacular Seg-Way to the Prague Canyons
Nature Segway Tour to the Prague Canyon is for those who want to have a ride in peace and be away from tourist and city crowds. Your tour starts after you get confident on the Segways. You will be led by your private guide on the tour who also will be your photographer and local companion.
This tour covers the local parts, natural areas and historical points of Prague. The breathtaking landscape of Prague's Divoka Sarka Canyon, with its unique experience, is waiting for you. Divoka Sarka is a nature reserve (Europe's largest national park within the city) that is filled with cliffs and wild meadows, visitors love this park as it resembles something straight out of a fantasy. The tranquil atmosphere filled with the sound of flowing streams of water is an amazing sight to behold, as this wild park freely shows its rugged beauty to all of nature. You will receive amazing photos, a pleasant atmosphere and unforgettable memories while enjoying the Segway tour and visiting the oldest brewery in Czech Republic – the Brevnov Monastery.
Segway trip to the Prague Canyons – away from the crowd
Your journey begins after a brief introduction and a test ride of Segway. First you will ride through the town that is just outside the city center, which allows you to observe and witness local Czech life. Next, you will arrive at the Divoka Sarka Canyon reserve nature park (translated as Wild Sharka, named after the Sarka warrior woman, who, according to mythology, threw herself to her death from her cliffs after betraying her lover Ctirad during the Maidens War). Entering Divoka Sarka, known as Prague Canyon, which is nature reserve with streams, lake, gorges and green beauty. During your visit, you will ride among high cliffs, brake near Lake Dzban and climb up to take a stunning photo on one of the highest cliffs in Divoka Sarka. The next destination will be the Brevnov Monastery, which is the Bohemian monastery founded in 993, which also has the oldest brewing tradition in the Czech Republic.
Included:
Live Guiding
Safety training & supervised test-drive
Photo service
Helmets – we have all the sizes
Raincoats, gloves (if needed)
Unlimited water, coffee and tea in our office
Excluded:
Food/ drinks during the tour (optional)
Gratuities (optional)
Take a pause from walking in a crowded areas
Enjoy the silence in a biggest green area of Prague
Explore Prague Canyons in the National Park
Find Brevnov Monastery – the oldest one in Czechia
Taste delicious beer, brewed with ancient recipes
Enjoy the segway ride outside of touristic zones
Old Stresovice – local Beverly Hills
National park Divoka Sarka (Prague Canyons)
Dzban Lake
Shestakova Hill and its Cliff
Brevnov Monastery
Benedict Brewery
Map of this tour route
To load map, click on the image.
Confirmation will be received at time of booking
Not allowed for pregnant travelers
Minimum age to participate in a tour is 8 years old. Children must be accompanied by an adult
Minimum weight for Segway riders is 35 kg (77 lbs)
Tours have no limit of participants; in a safety reasons guests are divided in smaller groups of 8 + 1 guide each
Most travelers can participate
No deposit is required, you can pay in our office on the day of the tour. We trust our guests and hope that you will come on time. If you change your mind, let us know at least 48 hours in advance. This way you do not deprive others of the opportunity to take advantage of the available date.
If you have prepaid your Seg-Way to the Prague Canyons, you must cancel at least 48 hours prior to the start of the tour to receive a full refund. For groups of 8 or more, cancellation policies are subject to change and will always be stated in the proforma invoice.
Pictures made on this route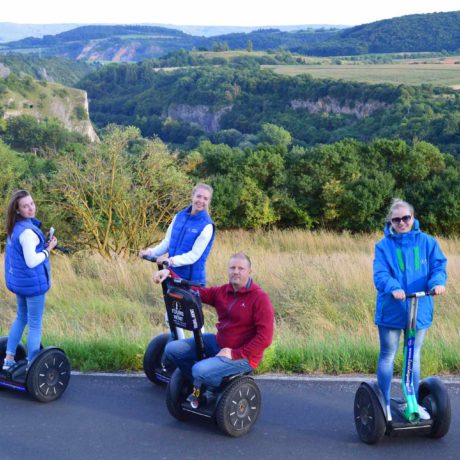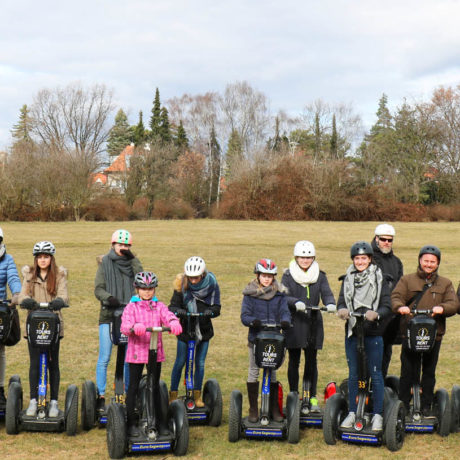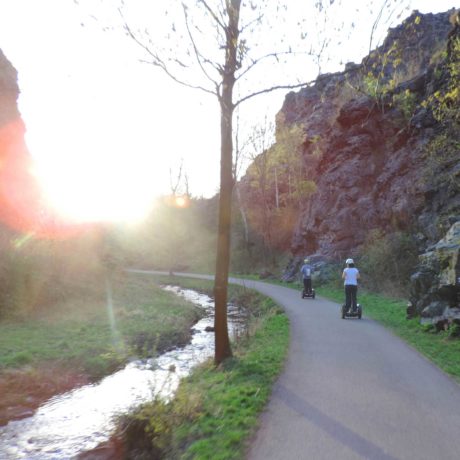 Frequently Asked Questions about Seg-Way to the Prague Canyons
What will happen if it rains?
In case of light rain, we provide suitable rain ponchos, free of charge. In the event of heavy rain, a tour may be rescheduled or canceled with a full refund.
What is the minimum age to drive a segway in Prague?
The minimum age is 9 years. The minimum weight is 30 kg / 67 lbs. The minor must be able to understand and follow the instructions provided by a guide.
Do I need a driver license?
No. The Segway driver is a pedestrian according to local regulations. We ride segways on the sidewalks, not on the roads with cars.
Is this a historical live guided tour?
All the tours we offer are live guided tours. However, tours on segway runs out of the downtown of Prague according the restrictions. This is a nature tour.