Overview
All "must see" sights on the Grand Tour of Prague on Trike
You will explore Prague Castle area, Strahov monastery, Lesser Town, and Old Town during the 3 hour of Grand Tour of Prague on Trike, accompanied by a local guide. This tour is suitable for every kind of group. A driver license is not needed, by the local regulations the Trike is a kind of e-bike.
After the introductory supervised test ride, your tour starts in the direction of the John Lennon wall. Passing under the Charles Bridge, you take unforgettable pictures there. You will be surprised by the narrowest street in Prague and the statues next to the Kafka museum. Via Jewish Quarter now you are driving through Parizska street, the most expensive street in Prague, in the direction to Old Town Square. From there, we are driving up to Letna Park where you will find the best views of Prague with the view of the 5 bridges from the Metronome monument. After a brief history and many photos, the next stop will be Prague Castle main gate – the largest castle in the world according to the Guinness Book of Records. Continue the tour to Strahov Monastery, finding the viewpoint of the red roofs of the downtown, or even visit the Strahov Brewery right next to the Monastery which was grounded in the 14 century. You will continue to the Petrin sightseeing tower which is the highest viewpoint in Prague. Lastly, you will enjoy your last moments driving a Trike through Petrin park where you will see a lot of Nature and views! All views are always from different angles and perspectives so you are able to see something new at every viewpoint!
Included:
Live guiding
Trike rental
Photo service
Safety training
Helmets
Raincoats (if needed)
Tea, coffee, water in our office
Excluded:
Food/ drinks during the tour (optional)
Gratuities (optional)
Experience unique Harley-Trike
Stunning photos, amazing memories
Suitable for families and first-timers
The best viewpoints for your photos
No driver license required!
On the Grand tour of Prague on Trike you will see:
John Lennon wall
Charles Bridge
The narrowest street in Prague
Franz Kafka museum
Jewish Quarter
Parizska street
Old Town Square
Letna Park
Metronome monument
the view of the 5 bridges
Prague Castle main gate
Strahov Monastery & it's viewpoint
Strahov Monastic brerwery
Petrin Tower
Petrin park
Lesser Quarter
Map of this tour route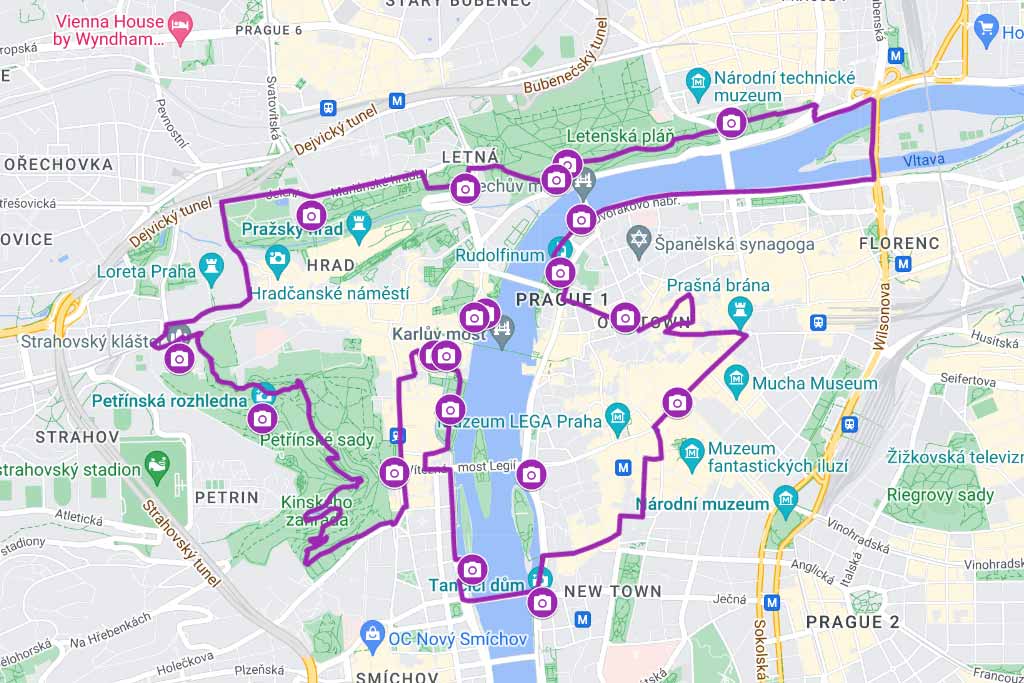 To load map, click on the image.
Confirmation will be received at time of booking
A driver's license is not required
Not recommended for pregnant travelers
Maximum group size is 15 guests. If you want to order more spots please contact us via Contact page
Minimum age to participate in a tour is 8 years old. Children must be accompanied by an adult
Only adults can ride the Trike, underage can be the 2nd passenger on the back seat. Also, we can offer 2 wheeled e-bikes for underage participants.
If you want to ride with a child of 1-6 years old, we can provide a classic electric bike instead of a Trike with a special child seat (EU certified), this is the only option to take your child on the tour. The maximum weight of the child (including clothing) is 22 kg (48.5 lbs). The child will go free of charge, but please mention it in the "Special requirements" field. The maximal number of such kids in the group – is 2
Most travelers can participate
No deposit is required, you can pay in our office on the day of the tour. We trust our guests and hope that you will come on time. If you change your mind, let us know at least 48 hours in advance. This way you do not deprive others of the opportunity to take advantage of the available date.
If you have prepaid your Grand tour of Prague on Trike, you can cancel it at least 48 hours prior to the start of the tour to receive a full refund. For groups of 8 or more, cancellation policies are subject to change and will always be stated in the proforma invoice.
Pictures made on this route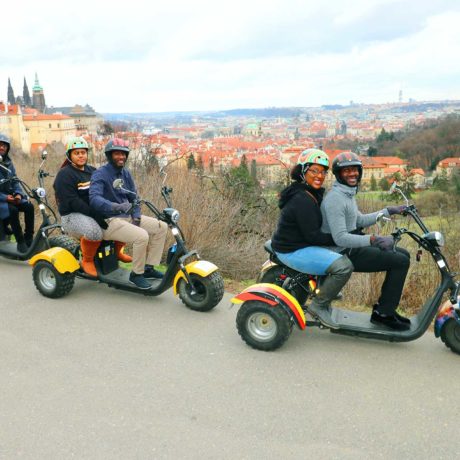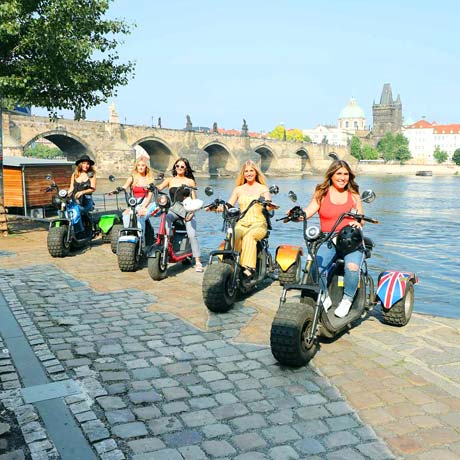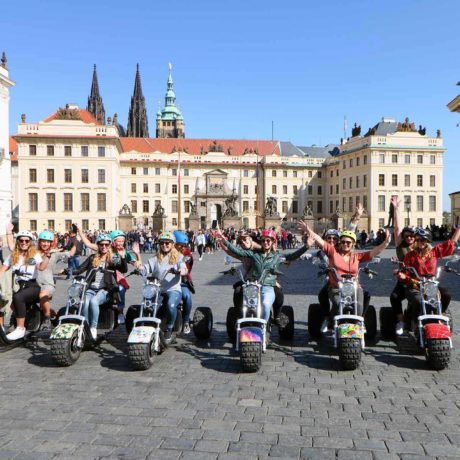 Frequently Asked Questions about Grand tour of Prague on Trike
I already saw part of the views on this route, can we go somewhere else?
Yes, sure, this is a private tour! Before you start, tell your guide your preferences and we will design a unique tour for you.
What will happen if it rains?
In case of light rain, we provide suitable rain ponchos, free of charge. In the event of heavy rain, a tour may be rescheduled or canceled with a full refund.
Is there a driver license needed?
The electric Trikes we use are are in the bicycle category according to local regulations. No driver license required!
What is a maximum speed of the Trike?
The speed of all the Trikes, ebikes and eScooters we use is limited to 25 km/h (15 mph) as must be by Law.
I have a 2 year old kid, is there a way to join this tour?
We can provide a classic e-bike instead of a Trike with a special child seat (EU certified), this is the only option to take your child on the tour. The maximum weight of the child (including clothing) is 22 kg (48.5 lbs), but please mention it in the "Comment" field of the booking form. The kid will go free of charge.
What if we ask for 2 Tricycles, but finally we go on one? Is there a way to get a refund for the difference?
If you order 2 trikes we will keep 2 Trikes blocked for you, so other people can not place a booking because of this. Also, we spend a time for a safety training for each driver, like 5 minutes per person or more if needed.
That is why the refund is not possible if you join a ride in the back seat on a trike with your partner, or on another type of eBike/ eScooter.
However, you will be fully refunded if you do not join a tour after safety training, feel uncomfortable driving, or even uncomfortable riding in the back seat.