Overview
A unique 3 hours Brewery Segway Tour of Prague, beer included
Brewery Segway Tour of Prague will show you two monasteries in 3 hours. It's for those who want to get rid of the city crowd, enjoy Segway ride and taste local beers at the Monastery Breweries. You will visit the oldest and then the highest monastery in the Czech Republic. After a brief orientation about the operation of your self-balancing device, follow your guide through urban areas such as Old Stresovice (local Beverly Hills), Hradcany, Strahov and Brevnov. You'll learn interesting facts and hear stories while covering Old Stresovice. You will be amazed by the history and surprising facts of Prague from your well-experienced private guide who will your host, and photographer as well. During this tour, you will cover more than 10 km visiting the most important monasteries in Prague and the Czech Republic. This tour is suitable for small and big groups including families, bachelor parties and team buildings. Having fun while experiencing Segways on Prague's urban part. Also, try the beers from the oldest brewery in Brevnov Monastery and the most awarded brewery in Strahov Monastery.
Visit the monasteries of Prague for the beer!
Your tour begins with a Segway ride to Brevnov Monastery where you will see the Church of St. Marketa and monastery garden, also try the beer from its brewery which is the oldest of the Czech Republic as well. Afterwards, your Segway journey continues to the Stresovice as known as the local Beverly Hills where St. Norbert Church and Muller Villa are. After a ride on Prague's urban streets, the next stop will be at Strahov Monastery. Visit the roman-catholic monastery founded in the 12th century which offers traditional and seasonal beers to drink at monks' brewery from the 15th century and observe Prague's unique panoramic view from one of the highest viewpoints in Prague. Before you finish your amazing Segway experience with fantastic memories, there will be time for a free ride at the Park Maxe Van Der Stoela where you can enjoy Segways and make breathtaking videos and photos.
Included:
Live guiding
Safety training
2 beers or soft drinks
Photo service
Helmets
Raincoats (if needed)
Tea, coffee, water in our office
Excluded:
Food/ drinks during the tour (optional)
Gratuities (optional)
Visit the most important and famous monasteries in Bohemia
Taste delicious beers, brewed with ancient recipes (beer included)
Enjoy the segway ride outside of tourist crowd
Reach monasteries on the outskirts of Prague by Segways easily
Enjoy a free ride in Park Maxe Van Der Stoela
Segway brewery tour will show you:
Prague Castle Views
Petrin hill view point
Strahov Monastery & Brewery
Strahov Stadium
Muller's villa
Benedictine Brevnov Monastery & Brewery
Prague's Beverly Hills (Old Střešovice)
Church of St. Norbert
Park Maxe Van Der Stoela
Map of this tour route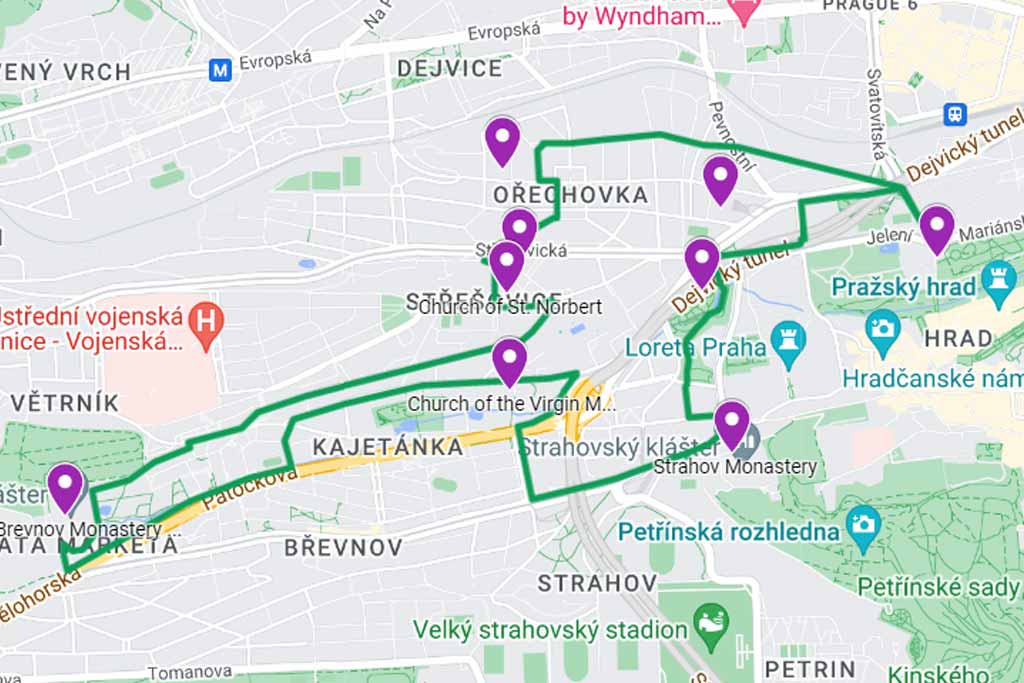 To load map, click on the image.
Confirmation will be received at time of booking
Driver's license is not required
Not recommended for pregnant travelers
Minimum age to participate in a tour is 8 years old. Children must be accompanied by an adult
Minimum weight 35 kg (77 lbs)
Tours have no limit of participants; in a safety reasons guests are divided in smaller groups of 8 + 1 guide each
Most travelers can participate
No deposit is required, you can pay in our office on the day of the tour. We trust our guests and hope that you will come on time. If you change your mind, let us know at least 48 hours in advance. This way you do not deprive others of the opportunity to take advantage of the available date.
If you have prepaid your Brewery Segway Tour, you must cancel at least 48 hours prior to the start of the tour to receive a full refund. For groups of 8 or more, cancellation policies are subject to change and will always be stated in the proforma invoice.
Pictures made on this route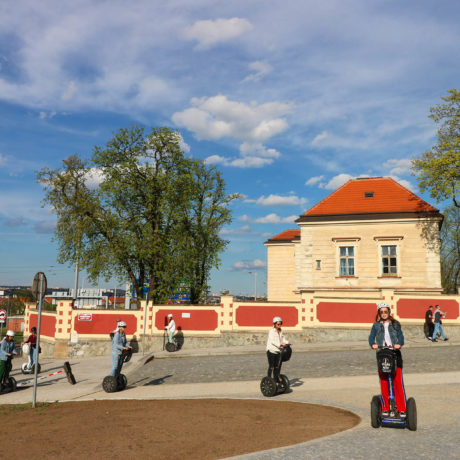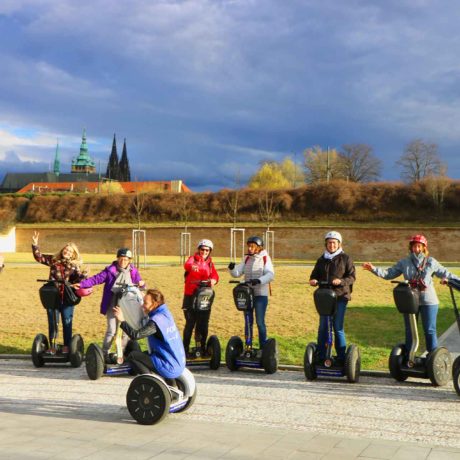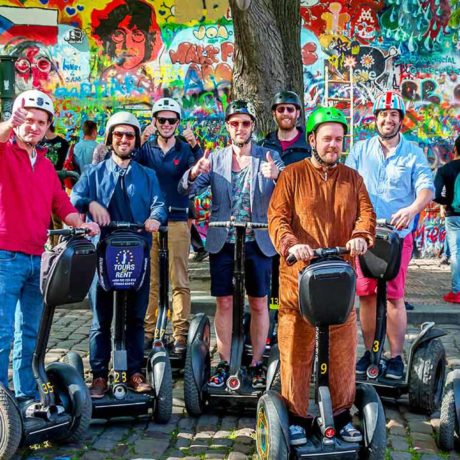 Frequently Asked Questions about Brewery Segway Tour – beer included
What is the minimum age to drive a segway?
The minimum age is 9 years. The minimum weight is 30 kg / 67 lbs. The minor must be able to understand and follow the instructions provided by a guide.
What will happen if it rains?
In case of light rain, we provide suitable rain ponchos, free of charge. In the event of heavy rain, a tour may be rescheduled or canceled with a full refund.
Do I need a driver's license to ride a segway in Prague?
No. The Segway driver is a pedestrian according to local regulations. We ride segways on the sidewalks, not on the roads with cars.