Overview
Segway fun ride nearby Prague Castle
For those who are in search of an active way to see the best of Prague, one hour of fun Segway ride is the best decision. We provide the most unique and interesting way imaginable to see the sights and hear the sounds of this great historic city. You will cover the most famous landmarks, historic sites, best local entertainment hangouts, and some of the most beautiful scenery Prague has to offer.
Your incredible adventure starts from our office, which is located in the heart of central Prague. You will get acquainted with your personal guide and will take a short transfer by mini-bus to the Segway point. By the first step you will pass thought private training and learning the safety instructions. The tour will begin as soon as all of the members feel well-confident of using Segway.
Hop on the Segway and get an experience of One-hour Fun ride. The trip is an introductory experience that is suitable for everyone. Trainers are always on hand to assist you and in a matter of minutes you will master this futuristic mobility device. An exciting experience for everyone! Capture your travels on eco-friendly transport Segway and enjoy your trip.
Exiting One-hour Segway fun route
Drive through the number of important institutions and in its surroundings, such as the embassies or consulates of numerous countries. Among others, visit Old Střešovice, mostly known as the "local Beverly Hills" with picturesque lanes and village houses. Continue up to Church of St. Norbert which has been dominant since 1891 and get to see the chef-d'oeuvre of the international architectural avant-garde Muller's villa. Take a ride to the biggest hill of the city Petřiny, where the highest observation point with the oldest Strahov Monastery is situated.
Visit this complex that successfully merges exquisite architecture with period treasures of immeasurable value, and learn about this great monastery, which is still a living place of meditation, learning and tranquility. The complex houses brewery that first documentation comes from the turn of the 13th and 14th centuries.
Included:
Live Guiding
Safety training & supervised test-drive
Photo service
Helmets – we have all the sizes
Raincoats, gloves and hats if needed
Unlimited water, coffee and tea in our office
Excluded:
Food/ drinks during the tour (optional)
Gratuities (optional)
Visit the Strahov Monastery
Discover historic Prague Castle neighborhood
Observe Prague from one of the highest viewpoints
Unforgettable fun ride with Prague Segway Tours
Prague Castle Views
Prague's Beverly Hills (Old Střešovice)
Petrin hill view point
Strahov Monastery & Brewery
Park Maxe Van Der Stoela
Map of this tour route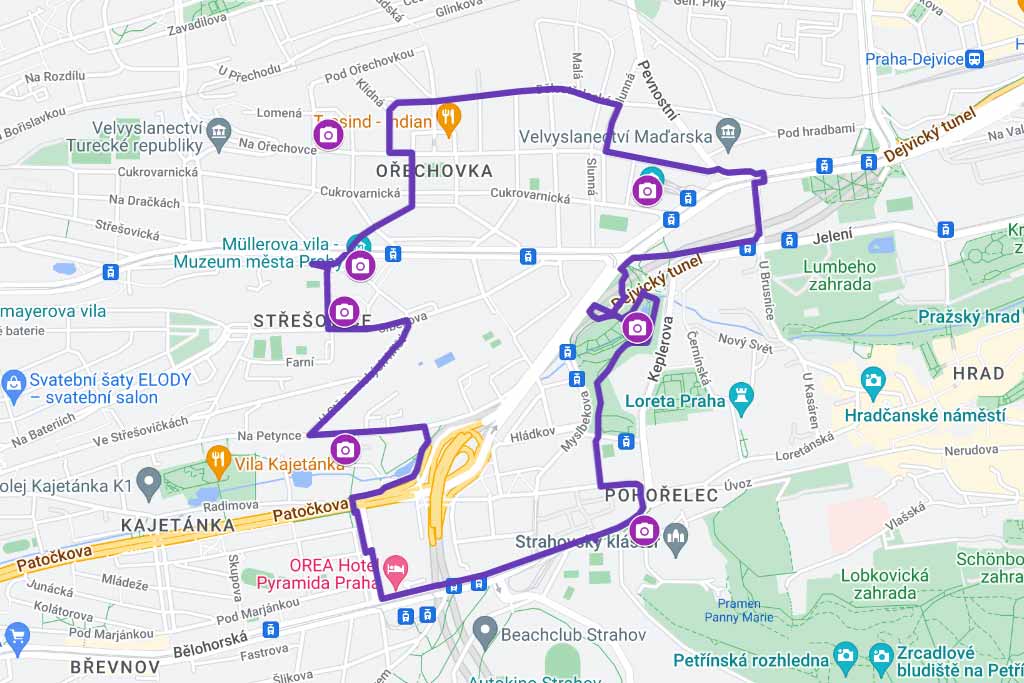 To load map, click on the image.
Confirmation will be received at time of booking
Not allowed for pregnant travelers
Minimum age to participate in a tour is 8 years old. Children must be accompanied by an adult
Minimum weight for Segway riders is 35 kg (77 lbs)
Tours have no limit of participants; in a safety reasons guests are divided in smaller groups of 8 + 1 guide each
Most travelers can participate
No deposit is required, you can pay in our office on the day of the tour. We trust our guests and hope that you will come on time. If you change your mind, let us know at least 48 hours in advance. This way you do not deprive others of the opportunity to take advantage of the available date.
If you have prepaid your Prague Segway Fun ride, you must cancel at least 48 hours prior to the start of the tour to receive a full refund. For groups of 8 or more, cancellation policies are subject to change and will always be stated in the proforma invoice.
Pictures made on this route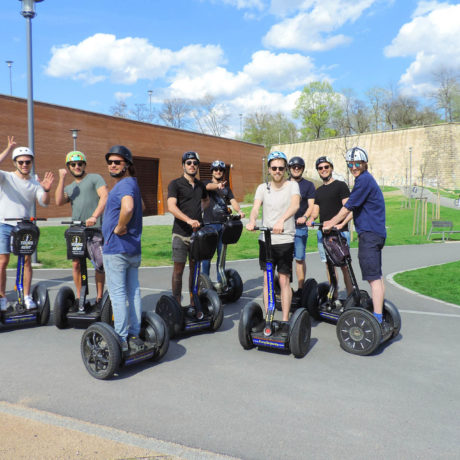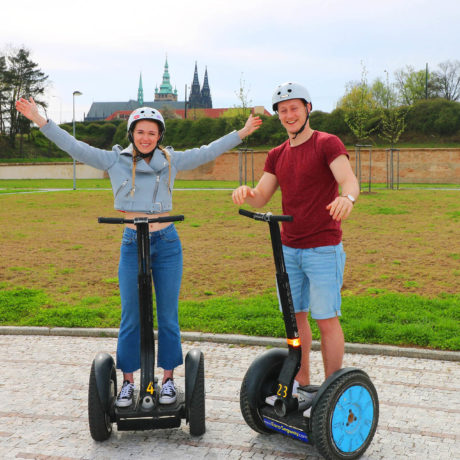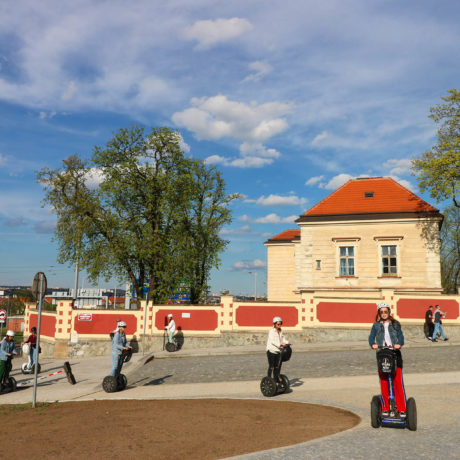 Frequently Asked Questions about Prague Segway Fun ride
Do I need a driver license?
No. The Segway driver is a pedestrian according to local regulations. We ride segways on the sidewalks, not on the roads with cars.
What is the minimum age to drive a segway in Prague?
The minimum age is 9 years. The minimum weight is 30 kg / 67 lbs. The minor must be able to understand and follow the instructions provided by a guide.
What will happen if it rains?
In case of light rain, we provide suitable rain ponchos, free of charge. In the event of heavy rain, a tour may be rescheduled or canceled with a full refund.
Is this a historical live guided tour?
All the tours we offer are live guided tours. However, tours on segway runs out of the downtown of Prague according the restrictions. This is a Segway Fun ride, but you will get a bit of history for sure..